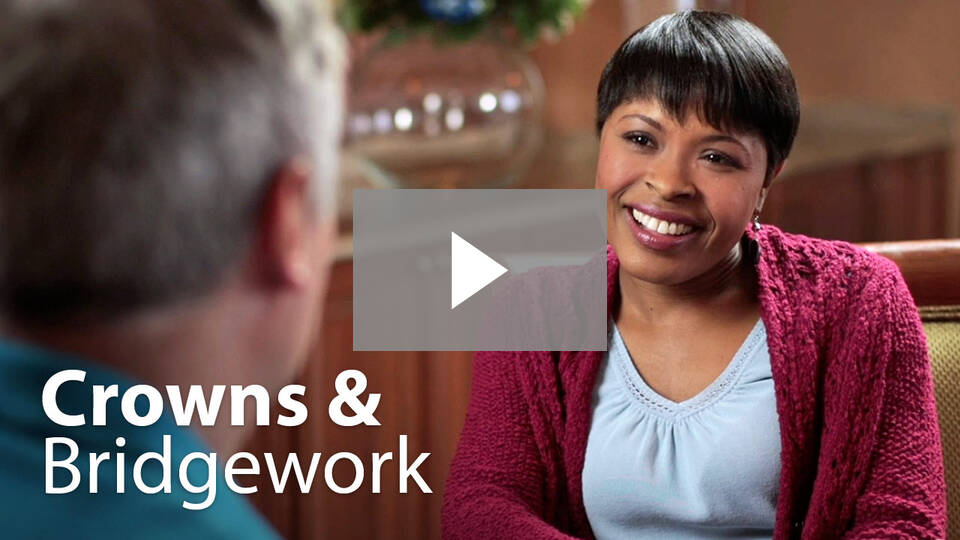 Dental Crowns and Bridges
When it comes to tooth replacement and repair, dental crowns and bridges are great. Dentists love them because they are safe, versatile, durable, and easy to maintain. You will love them because they can fit right in with your existing teeth.
We pride ourselves on getting our patients the best options that fit in their budgets. We know all about the best, latest treatments, but we never push crowns or bridges our patients might not be able to afford. Call our offices today at 602-775-5656 — one of our six Phoenix-area locations has a free consultation appointment waiting for you.
What Is a Dental Crown or Bridge?
Crowns and bridges are both prosthetics that reconstruct teeth:
A dental crown is a cap that we permanently bond to a broken or damaged tooth (or a dental implant fixture).
A bridge replaces missing teeth. Dental bridges bind to teeth or dental implant fixtures.
These repair broken teeth.They are also the visible parts of dental protheses — whenever you get a dental implant, you would also get a crown or a bridge to go on top.
The bridges and crowns we prefer are made of advanced, non-reactive ceramics. They look and feel like real teeth. They require minimal hygiene habit changes, the biggest thing you have to learn is flossing under bridges. The best part: After you get yours installed and ready to go, you should be able to eat, talk, and smile with confidence.
What Are Treatment Procedures for Crowns and Bridges?
Treatment for a new crown or bridge is relatively simple. Most follow these steps:
We perform a free consultation to check your mouth and discuss options.
We take special images so your new crowns match your teeth.
We prepare the base tooth and the surrounding area, re-shaping if necessary.
We put on a temporary crown, if necessary, to protect you while the studio makes your perfect replacement.
If you already have a healthy tooth and root to stabilize it, you would probably be ready to go. If not, we would recommend an implant that fits your budget.
$695 Dental Crown Coupon
This special is for all ceramic crowns (eg.EMAX or Empress), Veneers or porcelain fused to metal crowns.
Coupon
How Much Do Crowns and Bridges Cost?
Some of the newest materials and techniques can be expensive, but we never push those on our patients. We have high-quality, affordable options, and we will work with you to decide what is best for your unique situation. Give us a try: Crowns and bridges might be more accessible than you think.
What Are the Different Types of Dental Crowns?
At Dental Design Studios we prefer zirconium oxide and ceramic crowns. These are comfortable, durable, and easy to care for. These materials can also look exactly like the surrounding teeth. Examples include Zirconia, e.max, and Empress.
Best & Affordable Preventive Dental
We have seven offices around the Phoenix area, with skilled dentists serving patients in and around Glendale, Gilbert, Scottsdale, Peoria, and the Maryvale neighborhood of Phoenix. We are focused on providing great service and quality dental care. To make an appointment for any of your dental needs, call us today at 602-775-5656.