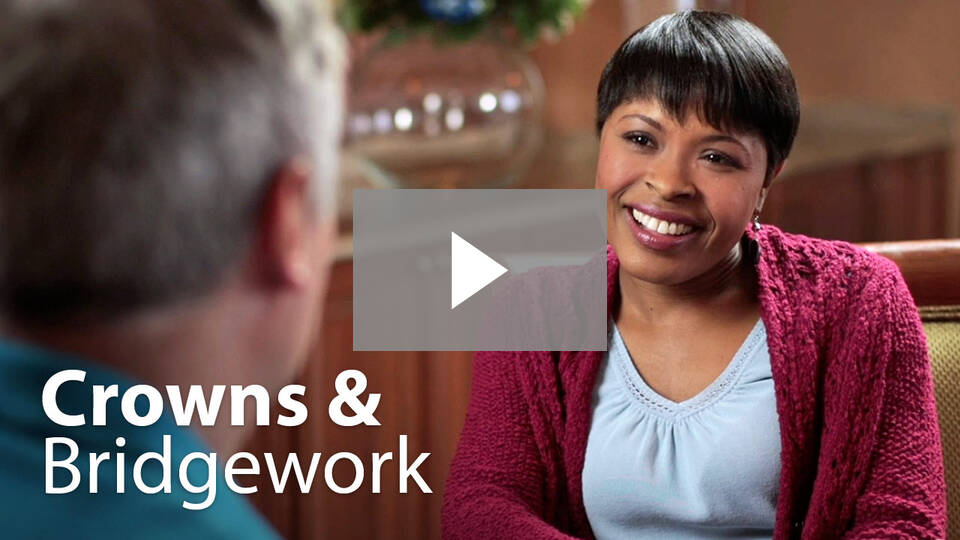 Beautiful Dental Crowns and Bridges
A dental crown or fixed dental bridge can serve multiple purposes. They can be used to restore damaged teeth, fill open spaces, or even relieve sensitivity and pain associated with cracked teeth or wear.
A dental crown or fixed dental bridge can serve multiple purposes. They can be used to restore damaged teeth, fill open spaces, or even relieve sensitivity and pain associated with cracked teeth or wear.
What is a Dental Crown or Bridge?
1. Dental Crown — A crown (or "cap") is a type of restoration that is used when a tooth cannot support a filling. Whether the tooth has a large cavity, fracture, or is brittle due to a root canal could mean that the tooth isn't strong enough to support chewing in which case the tooth is covered and reinforced with a dental crown. A crown can also be used to change the appearance of a tooth that is discolored or misshaped.
2. Fixed Dental Bridges — Bridges are used to "bridge" the space between two neighboring teeth when there is a gap left by a missing tooth. In some cases, it can replace up to two teeth at once. The design of a bridge makes it look like several crowns bonded side by side to one another, but generally only the crowns on each end of the bridge are bonded over teeth; the other units are "pontics." You can also place bridges directly on top of dental implants to replace even more teeth at once.
Most of our dental crowns and bridges are made of highly durable, porcelain materials. This allows them to withstand everyday wear, without sacrificing aesthetics when you smile. We at Dental Design Studio are big fans of both Zirconia and Emax depending on the tooth being replaced. Our dentists work closely with local labs in Mesa and Chandler, so that your final restorations fit accurately and look natural.
What to Expect During Your Treatment
Getting a dental crown or bridge generally requires two separate appointments to complete. During your first visit, one of our dentists will numb the tooth being treated, shape it so that a crown/bridge can fit over it, and take an impression. This impression is sent off to our lab, where your permanent restorations will be made. In the meantime, a temporary restoration will be placed over your tooth.
About two weeks later, you'll return to our office and have the temporary restoration removed, and the permanent crown or bridge bonded over the tooth.
Caring for Your Crown and Bridgework
Like any tooth, crowns and bridges need to be cleaned regularly. You should floss around them daily, so that bacteria does not collect around the margin and seep underneath, this could lead to failure. For bridges, you should use a floss threader or water flosser daily to clean underneath.
Be sure to schedule a preventive dentistry appointment every six months(or more often if recommended by your dentist), so that we can professionally clean around your restoration and examine it to make sure everything is healthy.
Affording Your New Dental Crowns and Bridges
Quality restorative dentistry should last for years. Your investment in a healthier smile is something you should cherish for the rest of your life. At Dental Design Studio, each treatment plan includes your options, total cost and your estimated dental insurance benefits. That way you know the total cost of your treatment before we even start.
Maybe you don't have insurance, or need to finance the remaining portion of what isn't covered by insurance. That's ok! We 0% interest payment plans through CareCredit and Ajeva. These plans allow you to:
$695 Dental Crown Coupon
This special is for all ceramic crowns (eg.EMAX or Empress), Veneers or porcelain fused to metal crowns.
Coupon
Alternative Uses for Dental Crowns and Bridges
In addition to restorative dentistry purposes, dental crowns and bridges can also be used on top of dental implants to replace missing teeth. With a single implant, a crown will make it seem as if you have a brand new individual tooth. For multiple missing teeth, a fixed bridge can be installed over just two implants so that there is no need to wear a removable partial denture.
The Design Process for Dental Crowns and Bridges
Getting a crown or dental bridge isn't something that should be rushed. Dental Design Studio ensures that all our dental crowns and bridges are custom designed to blend in with the rest of your teeth. We work with local laboratories that use our precise directions and color preferences so that the new restoration matches your smile to your total satisfaction.
Will My Dental Crown and Bridge Treatment Hurt?
The dentists at our offices want to ensure a gentle and stress-free treatment for every patient. If you're nervous about your treatment, we offer several options to help you relax. We even have televisions in each operatory to take your mind off things.
Call Dental Design Studio today to schedule a FREE CONSULTATION at one of our 4 locations Phoenix, Gilbert, Scottsdale or Peoria.