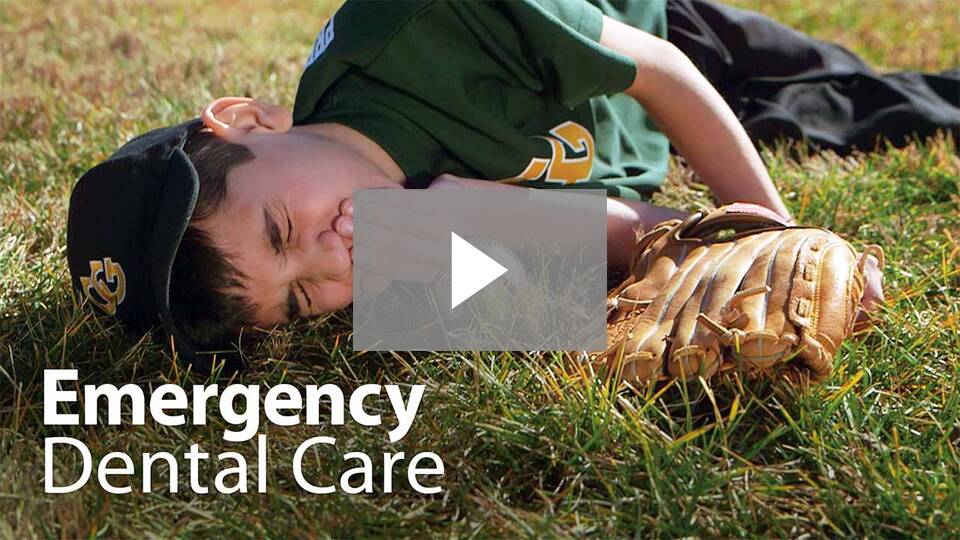 Emergency Dentist
Are you experiencing a toothache or oral pain? Our Phoenix Area emergency dentists are available for same day care to provide you comfort and to get you out of pain as quickly as possible. Pain relief is always our top priority.
Common Dental Emergencies That Our Dentist Treat
Not surprisingly, most dental emergencies originate from untreated cavities, cavities start off small but untreated will grow. Left alone, tooth decay can quickly expand deeper into your tooth and damage the pulp or weaken the enamel and lead to fracture.
Other conditions that our emergency dentists see on a frequent basis include trauma, such as an athletic injury or automobile accident. These situations usually involve a broken, chipped, or completely knocked out tooth. If at all possible, try to locate the portion of your tooth that has broken off, put it in a cup of milk and come immediately to our office. For older patients who can take special care to not swallow the fragment, it can also be tucked just inside of your cheek, so that your saliva keeps it lubricated.
What About Knocked Out Teeth?
For teeth that are completely avulsed (knocked out) it is sometimes possible to place the tooth immediately back into the socket. Our emergency dentists recommend briefly rinsing away any debris, but taking special care not to scrub away the small fibers that aid in reattachment. If you can put the tooth back in, stabilize it and make your way straight to one of our four Valley offices.
Preventing Dental Emergencies Before They Happen
Wearing a custom fitted athletic guard is one of the best ways for you to protect your teeth, especially if you're involved in athletic activities.
Here are a few reasons why you may want to opt for a custom guard, instead of one that you buy at the store:
Custom guards will fit snug and are able to take more impact without coming loose.
Your mouthpiece will feel more comfortable so that you'll be less likely to take it out.
It's been proven that custom made guards can protect against concussions…not just broken teeth!
My Child Hit Their Front Tooth. What Should I Do?
A slip in the bathtub or game of wrestling on the living room floor is enough to do some damage to young, developing smiles. If your child's tooth is chipped or visibly mobile, let us know. In some situations, symptoms such as mobility, discoloration, or an abscess (pimple along the gums) may not be evident for months or even years.
A quick x-ray is a great way to make sure that there is no damage to the permanent teeth surrounding it. We'll help you take appropriate steps to preserve any adult or baby teeth so as to avoid orthodontic complications later down the road.
Keeping You Comfortable
Dental emergencies can be painful and can create urgent cosmetic concerns. That's why we will do everything we can to begin treatment on the very first appointment, so that you don't have to endure discomfort of any type. Whether you need an extraction (followed by a dental implant), a crown, root canal, or other treatment, we'll review every option available so that you can make an informed choice that you can feel confident about.
We provide a wide menu of restorations, including:
During your treatment, you can even relax and watch a movie on one of our in-room television screens. It's a great way to distract yourself from the reason you're in our office in the first place!
Affordable Emergency Dentistry
Perhaps you don't have dental insurance, or you're worried that it won't cover all of your treatment. Fortunately, we can work closely with your insurance carrier to provide an itemized plan that outlines all costs involved, your estimated benefits, and any remaining out of pocket charges.
If you do need to finance your treatment, we provide several options through 3rd pary partnerships we have. Some of the benefits include:
Same day approvals, so that you can start on restorative treatment the very same day
Complete coverage
Low monthly payments that fit a wide range of budgets
0% interest for up to 24 months
You can apply online or at our offices.
Emergency Consultations are Always FREE!
$75 Exam, Digital X-ray, and Cleaning Coupon
Includes: – Professional exam and oral cancer screening – Diagnostic digital x-rays – Professional cleaning (in absence of Periodontal Disease) $75 exam, x-ray, and cleaning over a $200 value. (Cannot be combined with any other offer, only good for new patients, basic cleaning only.)
Some Dental Emergency Basics
Below are a few tips to assist you until you can reach an expert: